About APHM
The Association of Private Hospitals of Malaysia is more commonly known as APHM. This is an Association representing private hospitals and medical centers in Malaysia. The Association has been in existence since 1972 and currently has over 100 members throughout Malaysia.
APHM member hospitals are key partners with the public sector healthcare providers in bringing comprehensive medical care to all Malaysians through its member hospitals.
The APHM plays an important role in its objective of helping to raise standards of medical care within the country. Some of the activities geared towards this objective include :-
Working dialogues with public sector agencies including Ministry of Health, Malaysia and Ministry of Finance, Malaysia.
Participation in National working groups such as MPC, MITI and MATRADE.
Training programs for all Healthcare providers which include the yearly Conference and Exhibition and regular smaller group workshops on clinical and administrative / managerial topics.
Facilitating Patient Safety and Quality in member hospitals in its capacity as Member of the National Patient Safety Council.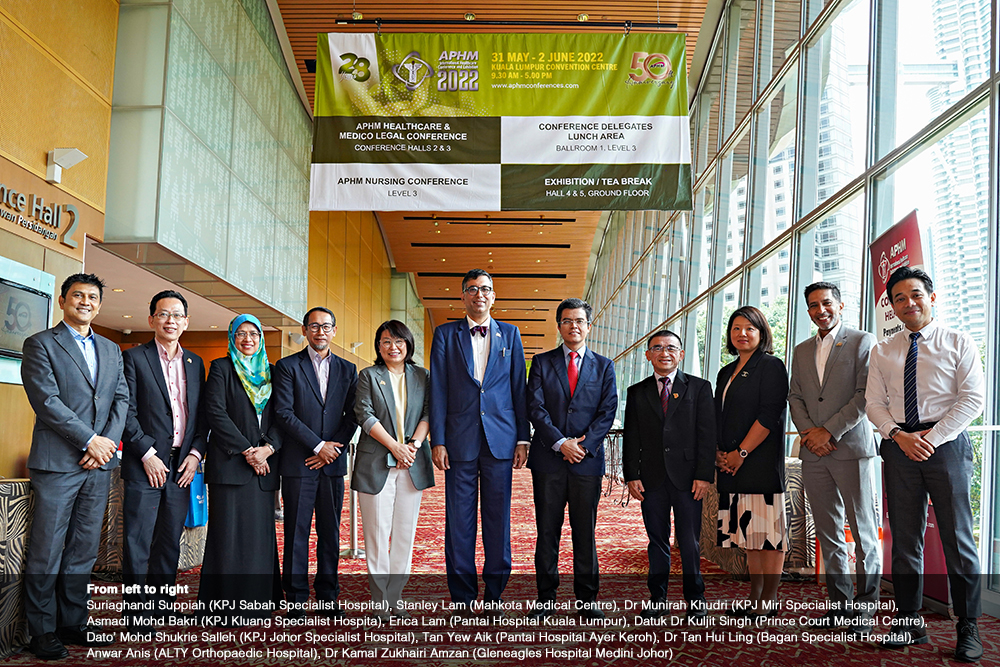 From left to right
Tan Yew Aik (Pantai Hospital Ayer Keroh), Dr Munirah Khudri (KPJ Perdana Specialist Hospital), Ronald Koh (Penang Adventist Hospital), Anwar Anis (Cardiac Vascular Sentral Kuala Lumpur), Ahmad Shahizam Mohd Shariff (KPJ Johor Specialist Hospital), Datuk Dr Kuljit Singh (Prince Court Medical Centre), Erica Lam (Pantai Hospital Kuala Lumpur), Ahmad Nasirruddin Harun (KPJ Ipoh Specialist Hospital), Dato' Dr N. Sivamohan (KPJ Klang Specialist Hospital), Stanley Lam (Mahkota Medical Centre), Tom Lim (Columbia Asia Hospital Bukit Rimau)
Office Bearers
List of Office Bearers for the Term 2022-2024
President
Datuk Dr Kuljit Singh
Prince Court Medical Centre
Honorary Secretary
Erica Lam
Pantai Hospital Kuala Lumpur
Vice President
–
Honorary Treasurer
Asmadi Mohd Bakri,
KPJ Kluang Specialist Hospital
Board Member
Anwar Anis,
ALTY Orthopaedic Hospital
Dr Kamal Zukhairi Amzan,
Gleneagles Hospital Medini Johor
Dr Munirah Khudri,
KPJ Miri Specialist Hospital
Dr Tan Hui Ling,
Bagan Specialist Hospital
Stanley Lam,
Mahkota Medical Centre
Tan Yew Aik,
Pantai Hospital Ayer Keroh
Association of Private Hospitals of Malaysia
A-17-01, Menara UOA Bangsar
No 5, Jalan Bangsar Utama 1,
59000 Kuala Lumpur
T +6 03 2284 1701
F +6 03 2284 2701
  aphm@aphm.org.my
Contact Person:
Dr T. Mahadevan
Chief Executive Officer